All-Natural Soap: Understanding the Power of Essential Oils and Botanicals
In the world of skincare and soapmaking, there's a hidden gem that nature has bestowed upon us - jewelweed. This vibrant plant, known for its unique properties, has been cherished for generations. In this comprehensive guide, we'll explore the enchanting world of jewelweed, its historical significance, its remarkable benefits for your skin, and how it can elevate your soap and skincare creations. I. Unveiling the Magic of Jewelweed Jewelweed, scientifically known as Impatiens capensis, is a vibrant wild plant commonly found in North America. Its translucent leaves and jewel-like flowers have earned it the name "jewelweed." This plant's unique properties...
---
Overall,
Regent Park Naturals
Anti Poison Ivy Soap is a great option for anyone looking for an all-natural remedy for bug bites and other types of skin irritation. With its soothing oatmeal and peppermint, along with the powerful properties of locally wild foraged Jewelweed, this soap can help you find relief from the discomfort of bug bites and get back to enjoying your summer activities.
---
Incorporating 
elderberries
 into your skincare routine can be a great way to improve the health and appearance of your skin. Whether you use a DIY face mask, try an elderberry serum, drink elderberry tea, or eat more elderberries, you'll be harnessing the power of this superfood to give your skin a natural boost.
---
Nettles
 are rich in vitamins and minerals, making them a great addition to
soap
. They are particularly high in iron, calcium, and silica, which can help to strengthen the hair, skin, and nails. Nettles also contain antioxidants, which can help to protect the skin from environmental damage.
---
• bar soap • ingredient • sumac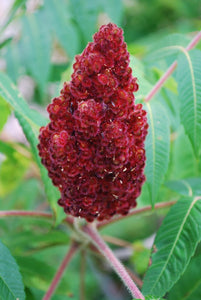 In soap-making, sumac can be used as an alternative to other astringent ingredients, such as witch hazel or tea tree oil. Sumac is often used in natural, handmade soaps because it is a gentle, plant-based ingredient that can help to cleanse and tone the skin without causing irritation or dryness.